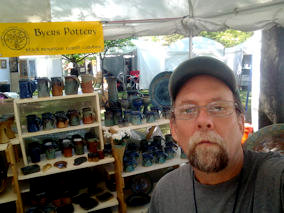 December 11th, 2021
Studio Open House!
Hello Pottery Lovers!
I would like to invite everyone to come to my Home Studio Open House,
here in Kingsport TN, Saturday December 11th, from 9 a.m. to 3 ish. Save the date!
The address is:
1117 Catawba St, Kingsport TN, 37660.
The studio is at the back of the driveway.
Pottery makes great gifts for the Holidays or anytime. Come and see my pottery studio and see what's new!
See you soon!
Handmade Stoneware
Welcome to Byers Pottery, a pottery studio located in Kingsport Tennessee, specializing in 100% hand made, stoneware pottery.
Made with Earth, Fire, and Spirit, my work is about the beauty and simplicity of hand-crafted pottery.
Glazes contain no lead or other toxic materials. All food safe, oven safe, and dishwasher safe.
Please take time to browse through the website. Enjoy!
Byers Pottery
Kingsport, TN
828-768-2933